November 2023
Project Himalaya
Summit Perspectives: A Journey of Photography and Film Combined with Cultural and Educational Support in the Himalayas.
Welcome to the landing page for our exciting project in the Himalayas!
We, Max Unterharnscheidt, a passionate photographer, and Michael Shaw, a sustainable filmmaker, invite you to be part of an extraordinary journey.
Our goal is to climb two peaks in the Himalayas in November – Pokalde Peak (5806 meters) and Island Peak (6189 meters). During this expedition we will not only capture the breathtaking beauty of these majestic peaks, but also support the local culture and people.
We are determined to document the stories, traditions and challenges of local people. Through our work, we aim not only to make their voices heard, but also to make a positive contribution to their community.
A special concern of ours is the support of a local school that is in urgent need of materials, infrastructure and expansion in order to provide the children with a better education. That is why we have launched a fundraising campaign to raise funds for this important initiative.
We invite you to become part of this journey and contribute. Any amount, large or small, can make a difference and give the children of the Himalayas a hopeful future.
Join us on this extraordinary expedition that combines the beauty of nature, the diversity of cultures and a commitment to social responsibility.
Together we can move mountains and climb to the peak of possibilities.
Be there and support us!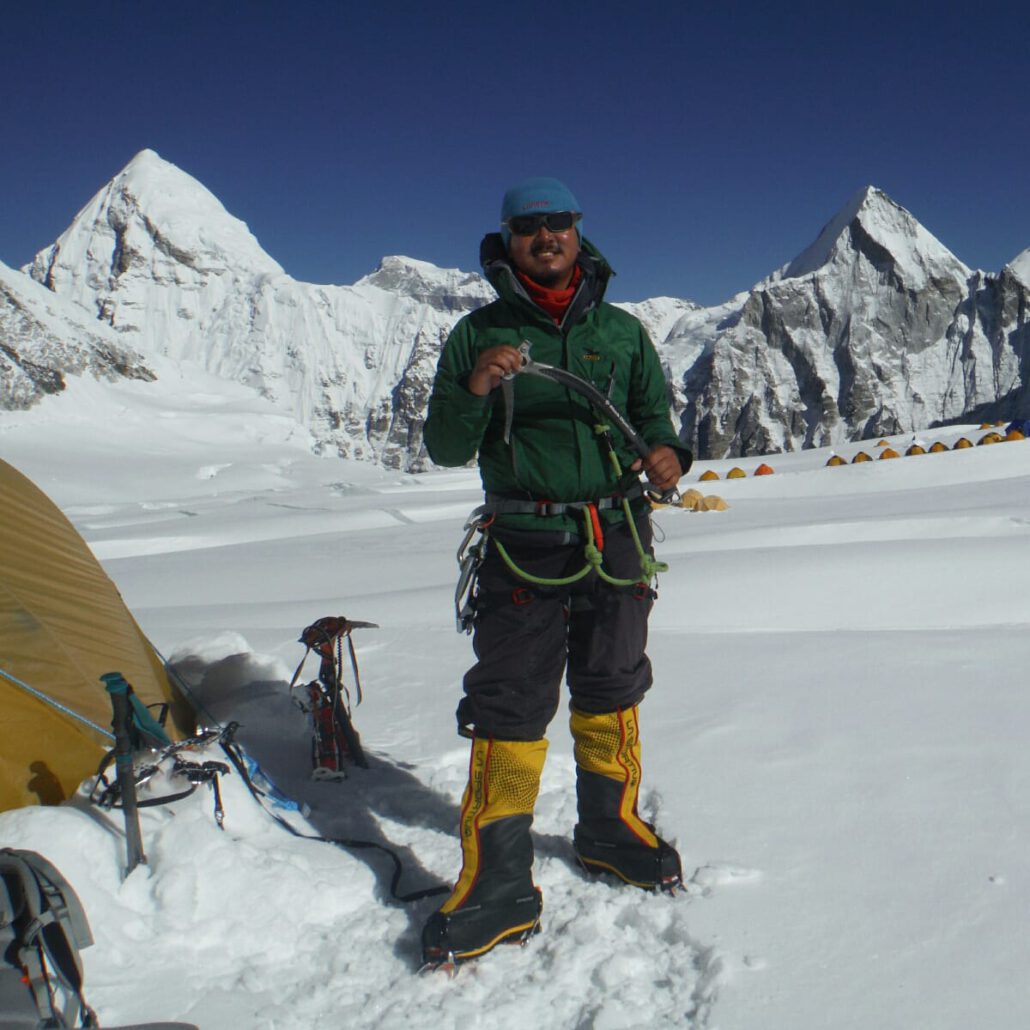 Sherpa Aang Gombu about the school
"Shree Saraswati Primary School is a simple elementary school in Hill. Hill is a small village in the Solukhumbu district in the Everest region. The school has about 25-26 students. The number of students is decreasing due to the lack of educational quality in the school. When I talk about quality of education, I refer to school resources such as playground, teaching materials, etc. The school is still far from a modern education system.
Due to the lack of adequate sources of income in the village, villagers cannot afford educational materials, school uniforms, food, etc. for their children. This results in their children not being sent to school. I remember the difficulties my parents faced in sending me to school. Therefore, it always makes me happy to be able to help bring about positive change in the school and for the students. This is just a short story about the school. There is much more to improve. So any contribution to the school and the students is always greatly appreciated."
Sherpa Aang Gombu cares deeply about supporting his village community, especially the local school, which is in dire need of funding for infrastructure, materials and better education. He is passionate about providing children with a solid foundation and improving their future prospects. Together we can support Aang in his vision and positively change the lives of many children through education.
Aang realized that education is the key to change and can overcome obstacles. He strives to create an environment that promotes the joy of learning and encourages critical thinking. By expanding school infrastructure and providing necessary resources, he wants to help children get a better education and develop their potential.
By joining Aang's mission and contributing to the school project, we can make a lasting difference in the lives of many children. Together, we can help make education accessible to all and give children a hopeful future. Together, let's harness the power of education and change the world for the better.
Filmmaker
Michael Shaw
Michael is an avid climber and mountaineer, but most importantly he has been involved in socially responsible and environmental projects through his filmmaking for many years. Among its impressive projects is support for the Sustainable Alpine Tourism Initiative, presented at COP28, which promotes measures to improve the sustainability of tourism in mountain regions. He has also helped Mercedes with Accelerate 25, a program that helps disadvantaged children in the UK get a STEM (science, technology, engineering and math) education. Michael's passion is helping young people build a better future. He firmly believes that education and a supportive community are key.
With his filmmaking skills and strong conviction for social responsibility, Michael sets an inspiring example. He uses his passion and commitment to deliver important messages and create awareness for sustainable solutions. Through his support of sustainable alpine tourism and his commitment to education, he demonstrates that every individual can make a positive contribution through their actions.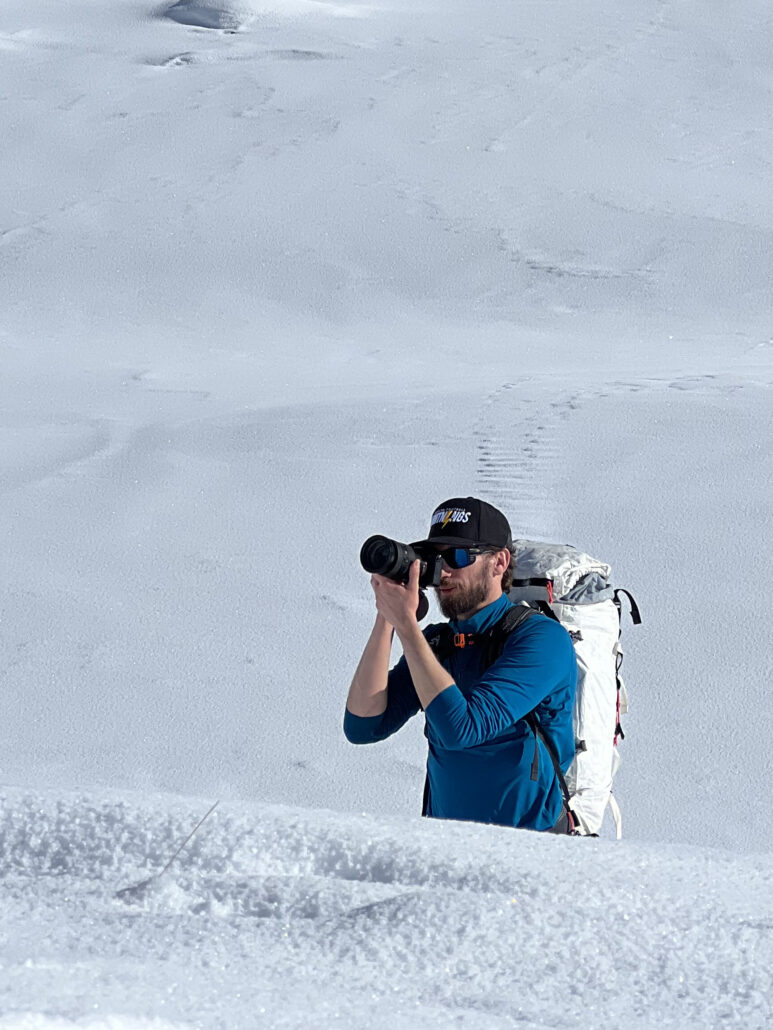 Photographer
Max Unterharnscheidt
Max Unterharnscheidt, a passionate photographer with over 17 years of experience, has taken on a project close to his heart with the project in the Himalayas. Thanks to his many years of experience, he has the unique talent to capture the beauty of the mountains in captivating images. In addition to his passion for the mountains, he also brings a notable background in American football. Max founded his own team in Germany and social commitment was always close to his heart.
With his project in the Himalayas, Max not only wants to capture the breathtaking beauty of the mountains, but also support the local culture and people. One of his big motivations is to help a local school in desperate need of materials, infrastructure and expansion. Max's many years of experience as a photographer and his involvement in American football have taught him how important it is to support young people and give them a better future.
His unique combination of passion for the mountains, social commitment to children and his extensive experience in photography makes this project in the Himalayas something special.

Copyright Max Unterharnscheidt Photography 2023